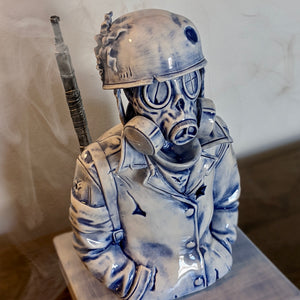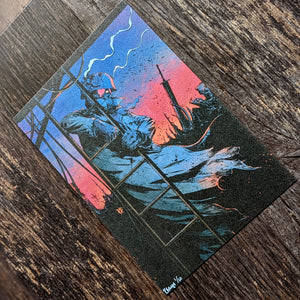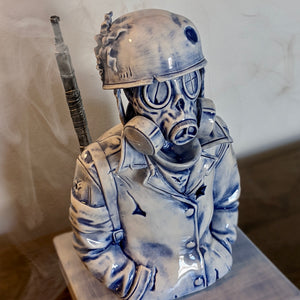 Massiveface x Mighty Jaxx Gas Mask Hell Chamber
Limited edition collaboration with Mighty Jaxx, taking my original character (Gas Mask) and creating a gorgeous ceramic incense burner. The piece is quite large and delicate, the rifle is metal with a movable bolt. The holes in the helmet and chest allow smoke to pass through in a very visually appealing way. 

Each sculpture is so carefully packaged that I can't sign the piece itself but it will come with a numbered sketch (1 - 10) of Artist proof copies. Each sculpture also comes with a verification key chain to ensure legitimate copies if the design is recreated.

Please include a contact number for courier services.

It also includes a print that inspired the original sculpture (Homecoming) and a more recent iteration of the character (Moment of Calm). 

Only 7 available for sale.
Postage will be tracked, £10 UK, £50 international.
Hight 27cm Width 16cm